Enroll Now to Prepare for the Next Live Results Review Sessions the Week of 6/4/2023
The Secret to Mastering Your Hormones and Unlocking Your Best Self!
Are you tired of the never-ending cycle of insomnia, brain fog, raging PMS, weight gain, night sweats, headaches, and fibroids, robbing you of your energy, focus, and overall well-being?
Reclaim Your Energy, Mood, and Confidence with "MY Hormone Masterclass"
Imagine feeling like yourself again!
Full of energy and vitality, ready to take on whatever the day throws your way.
No more dragging yourself out of bed, struggling to get through the day with brain fog and fatigue.
With balanced hormones, you wake up feeling refreshed and ready to tackle the day ahead. Your mind is clear, your body feels rested, and you're ready to take on whatever challenges come your way.
At work, you find that you're able to concentrate better, make fewer mistakes, and get things done more efficiently.
You receive compliments from your boss and colleagues, who notice how organized and on top of things you are.
After work, you even feel like you have the energy to hit the gym and work out.

You're not held back by aches and pains, and you have the motivation to push yourself further than ever before.
You feel strong, powerful, and ready to take on any physical challenge.

As the day comes to a close, you reflect on the amazing day you've had, feeling grateful for the newfound energy and vitality you have.
No more pain, no more symptoms holding you back - just a life full of energy, full of LIFE!
Hormonal issues are NOT normal or just a part of aging. It's ridiculous to think our bodies should go haywire during natural events like puberty, childbirth, or menopause (including "Male Menopause").
Stop wasting your best years suffering from hormonal imbalances caused by misinformation.
Just because it's common doesn't mean it's okay!
It's time to educate ourselves and demand better care for our bodies. Hormonal imbalances can seriously affect our health, relationships, and overall quality of life.
Don't let anyone tell you that you must live with the pain, discomfort, and frustration of hormonal issues.
There are solutions available, and with the proper guidance and treatment, you can regain control of your body and life.
MY Hormone Masterclass… How does it work?
Our program is designed to provide you with a personalized approach to achieving your goals and reaching Hormone Mastery.
Say bye-bye to generic, one-size-fits-all solutions that don't address your unique needs and circumstances.
Our self-paced, year-long program is packed with easily digestible education that is tailored to help you manage your hormone-related symptoms.
This program will provide you with the tools you need to take control of your hormones and start living life to the fullest.
With our program, you'll have access to one week of Live Results Review Sessions with Dr. Maggie and our Functional Nutritionist!
Giving you ample time to learn and apply the concepts we teach.
Our program is self-paced, so you can learn at your own speed and work around your busy schedule.
Plus, you'll have access to our materials for the entire year, so you can refer back to them whenever you need a refresher.
We believe that true success comes from tracking progress and making adjustments along the way.
That's why our program allows you to test and retest your progress throughout the year, so you can see just how far you've come.
Our comprehensive program is designed to help you improve your hormone balance and manage related symptoms.
We provide you with personalized data and insights, so you can confidently achieve your goals and reach Hormone Mastery.
Don't let hormone imbalances hold you back any longer.
Join our program today and take the first step towards a healthier, happier you!
If you've heard these before… you are in the right place.
We don't have a one size fits all method. Everything we do is entirely personalized. No other program has the level of personalized data that we do!
You'll have the knowledge and data to
"Master your hormones and master your life."
Real People. Real Results.
A 42-year-old woman who had been struggling with hormonal imbalances for years. She experienced extreme fatigue, brain fog, weight gain, hair loss and struggled with PMS symptoms that affected her quality of life.

Janet had gone to several doctors, but none of them could provide her with a solution that worked for her.

Desperate for a solution, Janet stumbled upon MY Hormone Masterclass by Maggie Yu MD IFMCP. She was skeptical at first, but the testimonials and the credentials of Dr. Yu convinced her to give it a try.

After completing the program, Janet saw a drastic improvement in her symptoms. She regained her energy and focus, her PMS symptoms subsided, and she even lost weight. She was amazed at the personalized approach of the program, which took into account her unique hormonal patterns.

One of the biggest takeaways for Janet was learning about the misunderstandings physicians have about hormones. She realized that the conventional approach to hormone management was not sufficient and that personalized care was necessary to achieve optimal health.

Janet was impressed by the comprehensive nature of the program, which covered everything from gut health to nutrition, movement, to supplementation. She appreciated the emphasis on understanding how hormonal systems fit into the overall functioning of the body.

The salivary panel testing of her hormones provided Janet with concrete data to track her progress, and the detailed protocols for her specific hormone patterns were crucial in providing her with actionable steps to take.

Janet was thrilled with the results of the program and felt like she had regained control of her body and life.

She highly recommends this for anyone who needs their hormones balanced.
Win: Maggie, holy hot potatoes...after suffering for 28 years with heavy LONG 10 day cycles, I had a 3.5 one this month. Granted I had cramps which is new (which I'm ok with right now) ...but OMG… to all those Gynos who said birth control is the only way to control and you cannot manage hormones…
I say suck it!!

CHRIS W
10 day water challenge. I had surgery two weeks ago but knew it would help my recovery to get back to drinking the correct amount of water. Member of Dr Yu's Hormone class leading up to my surgery taught me to balance my hormones (still a work in progress) but I learned that by eating a fat bomb at night or use golden balance, drinking water, and balancing my meals with protein healthy fats and fiber, I was able to lose a good portion of the weight I needed.  Since January 2020, I have lost a total of 80 pounds. I was able to control all of my post surgery pain with just ice and avoided all of the pain meds prescribed. I have a long way to go but I now have amazing tools. Thanks to Dr Yu and her entire team.

JANICE P
My rings are loose and my pants are falling down. Energy levels starting to come up. It's amazing what a functioning thyroid can do! 13 pounds down and counting!

VICKI H
My testosterone was WAY low. My DHEAS was low and my cortisol was really high...that combination is a horrible mix to trigger autoimmune issues.

TYLER T WALSH
Hormone week was definitely a game-changer for me. My Vitamin D level was 21. My estrogen was almost non-existent, my progesterone was love and my testosterone was high! I received this email this morning and read it and was like...YEP!!! Interestingly enough, WE had now decreased our risk of Alzheimer's, cancer, and heart disease. It boosts our mental health and brain function. Did you that women with low Vitamin D levels are 5 times more likely to develop breast cancer than those with sufficient Vitamin D levels? This is a huge WIN for us, y'all!!!!

LESLIE
After doing hormone testing I found out I was struggling with Estrogen dominance and awful cortisol levels. I just finished the program in September and don't have everything totally balanced...that can take up to a year. It took 20 years to get to this point, so I know it's going to take a bit, but I'm already sleeping SO much better and brain fog is much better! The program gave me personal data to figure out what conventional medicine physicians ignored.

PAMELA K
When I joined Dr. Yu's program, I never imagined the information I learned would help the monthly cramps I've had for 30+ years or the huge plummet in energy I always experienced the second half of my cycle. I quickly learned it was no coincidence that my autoimmune symptoms first appeared when I hit puberty and had accelerated as I headed into perimenopause. I learned how to test and interpret my own hormone levels. In the group support calls, you see it is not a one-size-fits-all solution. Some people need a little hormone help. In my case, lifestyle changes, like eliminating food intolerances and learning to manage my blood sugar better, have made a world of difference! And my favorite part, I am teaching these things to my 15-year-old and 12-year-old so they can avoid a lifetime of suffering.

CHRISTINA
Discover Why Physicians So Often Misunderstand Hormones

Overview Of How Ovarian & Adrenal Hormones Interact

Learn What Each Hormone Does

Hormone Symptom Checklist And Importance Of Symptom Relief

Estrogen Hormone Patterns

Testosterone Patterns for Men and Women

Polycystic Ovarian Syndrome & HIDDEN PCOS the worst of them all

Adrenal Hormone Patterns

Supplementation for Hormones & Adrenals

Gut Health for Hormones

Nutrition for Hormones

Tying It All Together: How Hormonal Systems Fit in With The Rest of the System and ALL Your Symptoms
What you'll get if you sign up today.
A Full Salivary Panel Testing of Your Hormones (Sex Hormones & Adrenal)

Comprehensive & Professional Training Video Modules Delivered by Maggie Yu MD IFMCP

Your choice of One Live Results Review Session Week (every two months) with Maggie Yu MD IFMCP, the team and our Functional Nutritionist

Detailed Protocols for Specific Hormone Patterns including Lifestyle, Nutritional & Supplement training.

MELT Method Movement Program for Hormone Balancing

The ability to try all of the above and upgrade to the full year plan of MY Hormone Masterclass so you can retest and attend unlimited sessions for the whole year!

And many other bonuses...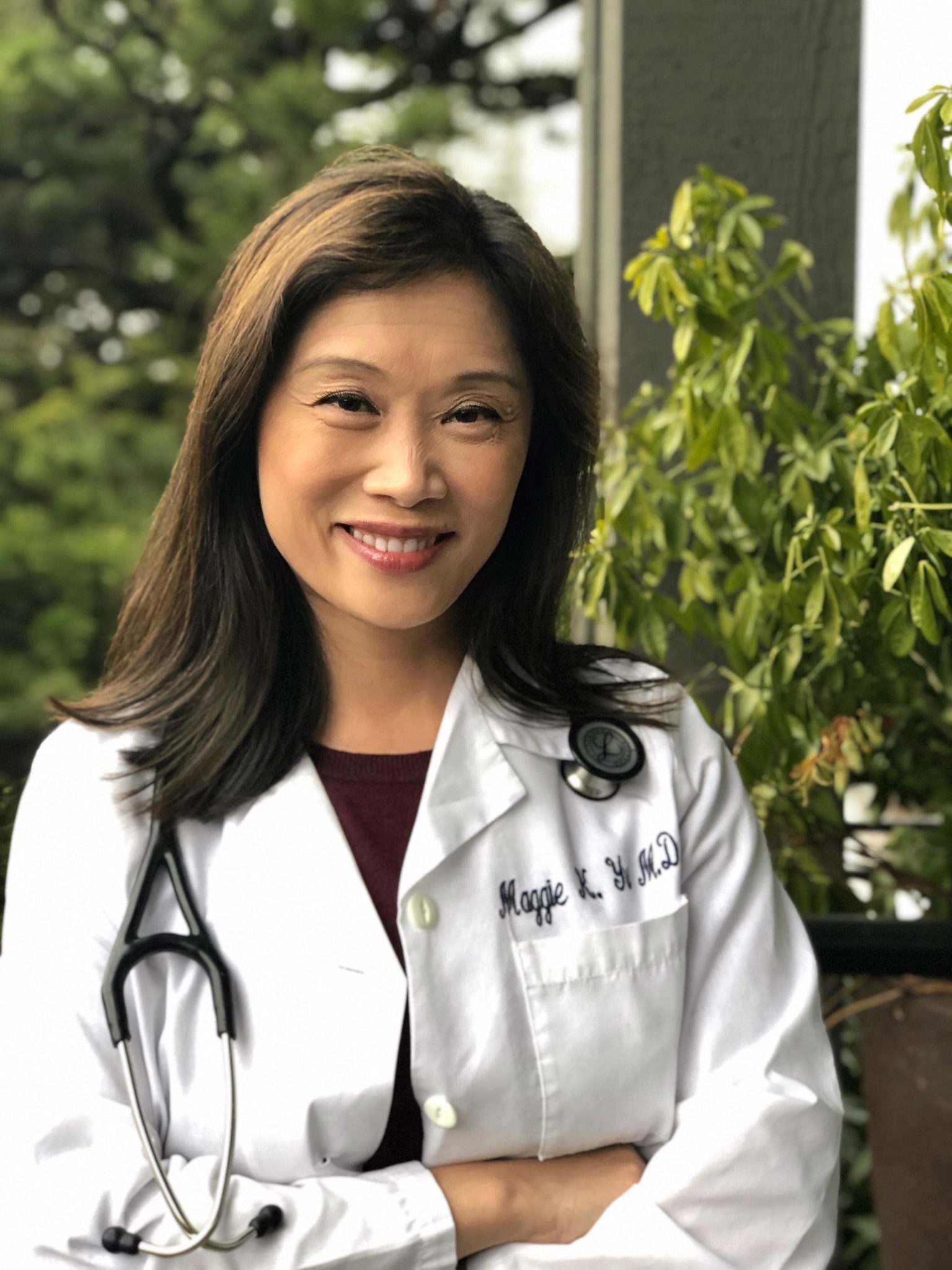 Maggie Yu MD, IFMCP is a highly respected family practice physician and certified functional medicine physician. Over the past 6+ years, she has been providing education and training on topics related to longevity and reversing chronic diseases through social media. With over 25 years of experience, she is deeply committed to promoting wellness and helping her clients achieve optimal health and longevity. Dr. Yu is an expert in the field of functional medicine, which involves identifying and treating the root causes of chronic diseases. She has helped thousands of patients overcome chronic symptoms such as pain, fatigue, POTS, MCAS, autoimmune conditions, hormone imbalances, irritable bowel, depression, anxiety, and brain fog. Her success stories include hundreds of case studies demonstrating her approach's effectiveness in alleviating these symptoms and more.
Dr. Maggie Yu has firsthand experience in reversing her own symptoms. At the age of 36, she suffered from a range of chronic conditions, including fibromyalgia, early menopause, Hashimoto's, chronic pain, depression, TMJ, and Mixed Connective Tissue Disorder. However, she was able to completely reverse her symptoms through a combination of hard work, years of additional training, and her medical expertise.
Since then, Dr. Yu has developed the Transform protocol, which has helped thousands of people reverse their symptoms through a healing-centric education system. Her programs are tailored to meet the individual needs of each person, and she focuses on reversing symptoms of any chronic disease. She has successfully helped people with hormone imbalances, chronic pain, autoimmune diseases, IBS, neurological and mental health conditions (including ADD/ADHD, autism spectrum disorder, and sensory processing disorders), and more.
Dr. Yu is a mother of two grown children and currently resides in Oregon. Her programs have delivered results to clients from over 14+ countries. She received her medical degree from the University of California, Los Angeles (UCLA) and has specialized in hormone balance, chronic disease, autoimmune diseases, and functional medicine, incorporating a personalized root cause approach to patient care. With her extensive education and decades of experience, Dr. Yu has developed a unique and innovative system to help clients and their families reverse chronic disease symptoms.
"If you are a middle-aged woman, man, teenager, these problems come up against many of us, and we're told "it's normal". And I know you've thought to yourself "there's no way this is normal, I feel terrible". Well, I'm here to confirm that and tell you it's not okay!

But it can be fixed. Join thousands of others and join, MY Hormone Masterclass.
-Maggie Yu MD IFMCP
It's time to take massive action.
Take control of your life and get back to feeling like yourself!
Feel more energized, and be able to take the kids to the park without feeling like you need to lay down after it. Get back to having a full, restful night's sleep. Say goodbye to those headaches that always seem to be creeping up on you. 
Address these hormonal imbalances! And have a happier, healthier, and more fulfilling life.
Stop worrying about your symptoms and focus on the things that truly matter.
It's time... YOU deserve to be the master of YOUR hormones!