UPGRADE Now to Prepare for the Next Live Review Sessions the Week of 6/4/2023
The UPGRADED MY Hormone Masterclass...
What's NEW and DIFFERENT?
It's still the same program you love, just better!
You'll still receive a personalized approach to achieving your goals and reaching Hormone Mastery.
Access brand new training incorporating the latest science and data. Brand new videos, brand new workbooks, all designed to produce the results you want and need.
Our self-paced, year-long program is packed with easily digestible education, tailored to help you manage your hormone-related symptoms.
With the UPGRADE, you'll have unlimited opportunity to attend Live Results Review Sessions with Dr. Maggie and our Functional Nutritionist for the next 12 months! These are held every two months and you can have your testing and retesting reviewed again and again.
Plus, you'll get bonus access to an exclusive MELT on Demand Hormone Collection created by Dr. Maggie and Sue Hitzmann, the creator of MELT (and we'll gift you with one month of movement classes if you haven't done MELT before).
Don't let hormone imbalances hold you back any longer.
UPGRADE today and take the first step towards a healthier, happier you!
The Secret to Mastering Your Hormones and Unlocking Your Best Self!
Are you tired of the never-ending cycle of insomnia, brain fog, raging PMS, weight gain, night sweats, headaches, and fibroids, robbing you of your energy, focus, and overall well-being?
Reclaim Your Energy, Mood, and Confidence with an UPGRADE to the BRAND NEW MY Hormone Masterclass
Imagine feeling like yourself again!
Full of energy and vitality, ready to take on whatever the day throws your way.
No more dragging yourself out of bed, struggling to get through the day with brain fog and fatigue.
With balanced hormones, you wake up feeling refreshed and ready to tackle the day ahead. Your mind is clear, your body feels rested, and you're ready to take on whatever challenges come your way.
At work, you find that you're able to concentrate better, make fewer mistakes, and get things done more efficiently.
You receive compliments from your boss and colleagues, who notice how organized and on top of things you are.
After work, you even feel like you have the energy to hit the gym and work out.

You're not held back by aches and pains, and you have the motivation to push yourself further than ever before.
You feel strong, powerful, and ready to take on any physical challenge.

As the day comes to a close, you reflect on the amazing day you've had, feeling grateful for the newfound energy and vitality you have.
No more pain, no more symptoms holding you back - just a life full of energy, full of LIFE!
It's time to educate ourselves and demand better care for our bodies. Hormonal imbalances can seriously affect our health, relationships, and overall quality of life.
Don't let anyone tell you that you must live with the pain, discomfort, and frustration of hormonal issues.
There are solutions available, and with the proper guidance and treatment, you can regain control of your body and life.
Brand New Training Covers:
How Ovarian and Adrenal Hormones Interact

What Each Hormone Does and Why They're Important

Hormone Symptom Checklist and the Importance of Symptom Relief

Why Physicians So Often Misunderstand Hormones

Estrogen Hormone Patterns

Testosterone Patterns for Men and Women

Polycystic Ovarian Syndrome and HIDDEN PCOS - The Worst of Them All

Adrenal Hormone Patterns

Supplementation for Hormones and Adrenals

Gut Health for Hormones

Nutrition for Hormones

Tying It All Together: How Hormonal Systems Fit in With The Rest of the System and ALL Your Symptoms
When you UPGRADE today, you'll get:
LIMITED TIME ONLY: A Full Salivary Panel Testing of Your Hormones (Sex Hormones and Adrenal) - a $350 Value!

BRAND NEW Comprehensive and Professional Training Video Modules Delivered by Maggie Yu MD IFMCP - Available for a Full Year

Unlimited Live Results Review Sessions (offered every two months) with Maggie Yu MD IFMCP, the team and a Functional Nutritionist - Test and Retest Your Hormones

Detailed Protocols for Specific Hormone Patterns including Lifestyle, Nutritional and Supplements

MELT Method Movement Program for Hormone Balancing

And many other bonuses...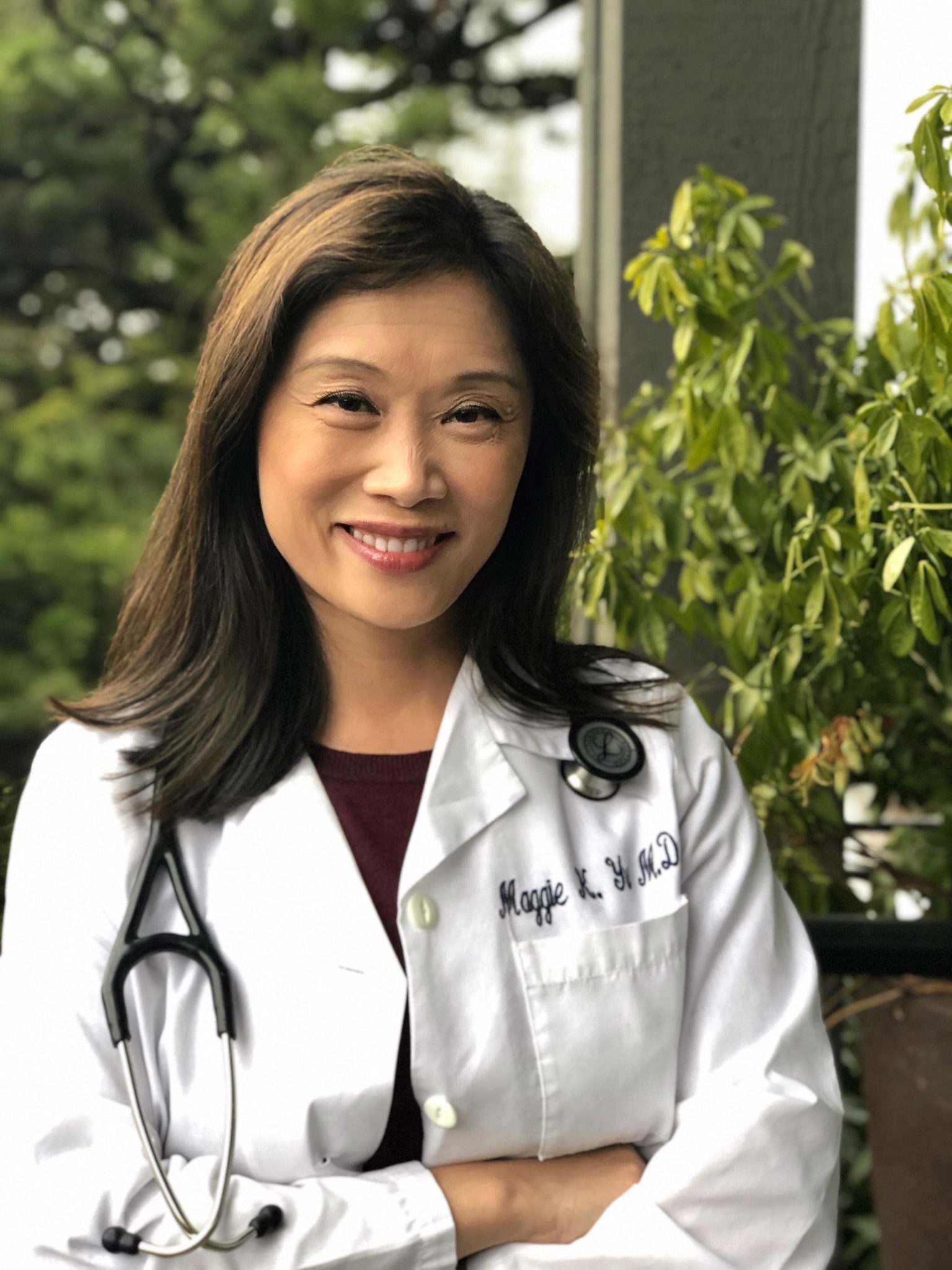 Maggie Yu MD, IFMCP is a highly respected family practice physician and certified functional medicine physician. Over the past 6+ years, she has been providing education and training on topics related to longevity and reversing chronic diseases through social media. With over 25 years of experience, she is deeply committed to promoting wellness and helping her clients achieve optimal health and longevity. Dr. Yu is an expert in the field of functional medicine, which involves identifying and treating the root causes of chronic diseases. She has helped thousands of patients overcome chronic symptoms such as pain, fatigue, POTS, MCAS, autoimmune conditions, hormone imbalances, irritable bowel, depression, anxiety, and brain fog. Her success stories include hundreds of case studies demonstrating her approach's effectiveness in alleviating these symptoms and more.
Dr. Maggie Yu has firsthand experience in reversing her own symptoms. At the age of 36, she suffered from a range of chronic conditions, including fibromyalgia, early menopause, Hashimoto's, chronic pain, depression, TMJ, and Mixed Connective Tissue Disorder. However, she was able to completely reverse her symptoms through a combination of hard work, years of additional training, and her medical expertise.
Since then, Dr. Yu has developed the Transform protocol, which has helped thousands of people reverse their symptoms through a healing-centric education system. Her programs are tailored to meet the individual needs of each person, and she focuses on reversing symptoms of any chronic disease. She has successfully helped people with hormone imbalances, chronic pain, autoimmune diseases, IBS, neurological and mental health conditions (including ADD/ADHD, autism spectrum disorder, and sensory processing disorders), and more.
Dr. Yu is a mother of two grown children and currently resides in Oregon. Her programs have delivered results to clients from over 14+ countries. She received her medical degree from the University of California, Los Angeles (UCLA) and has specialized in hormone balance, chronic disease, autoimmune diseases, and functional medicine, incorporating a personalized root cause approach to patient care. With her extensive education and decades of experience, Dr. Yu has developed a unique and innovative system to help clients and their families reverse chronic disease symptoms.
"If you are a middle-aged woman, man, teenager, these problems come up against many of us, and we're told "it's normal". And I know you've thought to yourself "there's no way this is normal, I feel terrible". Well, I'm here to confirm that and tell you it's not okay!

But it can be fixed. Join thousands of others and join, MY Hormone Masterclass.
-Maggie Yu MD IFMCP
It's time to take massive action.
Take control of your life and get back to feeling like yourself!
Feel more energized, and be able to take the kids to the park without feeling like you need to lay down after it. Get back to having a full, restful night's sleep. Say goodbye to those headaches that always seem to be creeping up on you. 
Address these hormonal imbalances! And have a happier, healthier, and more fulfilling life.
Stop worrying about your symptoms and focus on the things that truly matter.
It's time... YOU deserve to be the master of YOUR hormones!